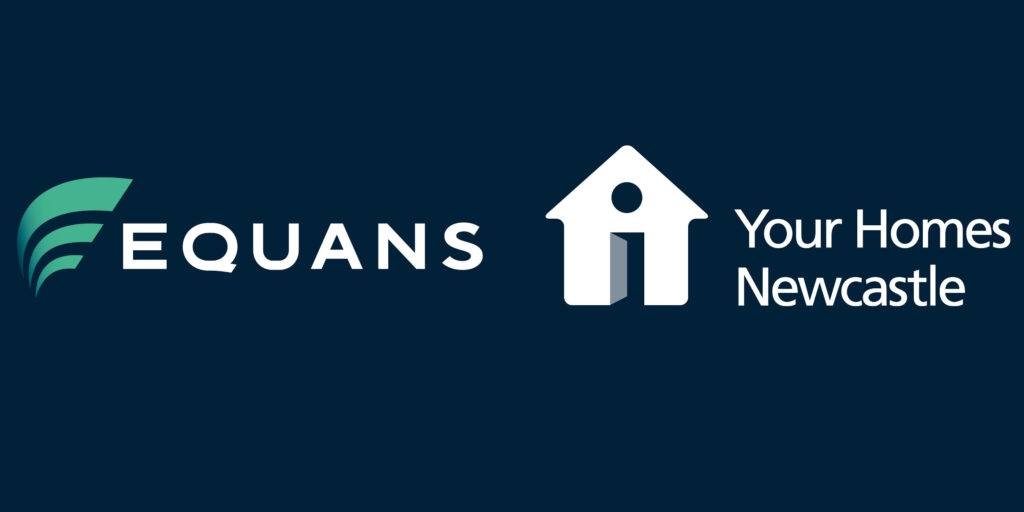 29 June 2023: An innovative scheme led by leading energy, services, and regeneration expert Equans, to replace an inefficient gas heating system with state-of-the-art Ground Source Heat Pumps (GSHPs) has been recognised with a trio of awards.
The Denton & Hilltop project, centred around two high-rise tower blocks in the West Denton area of Newcastle, saw the complete removal of an ageing ducted air gas heating system and a Zero Carbon GSHP system installed in its place on behalf of Newcastle City Council and Your Homes Newcastle (YHN).
GSHPs work by drilling holes deep into the ground and harnessing natural heat from underground by pumping water through it in pipes. The heat pump then increases the temperature, and the heat is used to provide home heating or hot water.
The new low carbon technology, implemented by smart controls from experts Switchee, not only support YHN and Newcastle City Council's decarbonisation efforts in the city, but benefits residents by reducing energy bills thanks to the complete removal of the old gas system.
That work has led to the project winning three awards in recent months - the North East Energy Efficiency Awards, the Insider North East Property Awards and most recently the Constructing Excellence North East Awards, where Denton & Hilltop won Residential Project of the Year.
Supporting the Equans and YHN team at the Insider Awards was Laurence Rodden, who has been a vocal supporter of the project as the Chair of the Residents Association at the towers.
He said: "It's been more than a year since I had the system installed in my flat, and I can only praise the new heating system – the more time it's been in, the more I like it and can see the benefits. I think anyone who has the opportunity to get a similar system installed should get it done if they have the chance, it's absolutely marvellous."
Paul Watson, Regional Director for the North East & Cumbria at Equans, said: "Denton & Hilltop's hat-trick of award successes highlights just how good a job the team working on the project has done to deliver a complex scheme which has not only been welcomed by residents, but has been validated as a gold-standard project by our industry peers.
"I want to pass on my congratulations to everyone from the delivery team at Equans, Your Homes Newcastle, Switchee, and our supply chain. Without their hard work, none of this would have been possible. Hopefully we'll be enjoying more award success in the months to come!"
David Langhorne, Group Director Assets and Development at YHN, said: "This is one of a number or projects we're working on to reduce the carbon footprint of the housing stock we manage for Newcastle City Council as they work towards achieving Net Zero by 2030.
"We're thrilled that the Denton and Hilltop project is receiving the accolades it deserves for contributions towards energy efficiency in the city, but, most importantly, we're delighted to hear that residents are so happy with how its working and hope they'll continue to reap the rewards this winter."
Cllr Jane Byrne, Newcastle City Council Cabinet member for a Connected, Clean City, said: "We have made a strong commitment as a city to become net zero and making homes and buildings more sustainable plays a major role in that.
"I am delighted that the project has received the awards and that residents are benefiting from lower energy bills, particularly when the cost-of-living crisis continues to be a challenging time for so many people.
"We remain committed to working with partners in the city to build on the fantastic work we are doing to create cleaner, greener communities for future generations."
Tom Robins, Switchee's CEO, commented: "To win awards is great and fantastic recognition of hard work from everyone involved. These awards also represent an increasing understanding of the benefits of better management of resident wellbeing. And ultimately, that's what we're all about – seeing tangible benefits being realised by residents."
About Equans in the UK & Ireland:
In the UK & Ireland, Equans is a provider of technical services, FM, regeneration and energy services – with specialist capabilities in smart buildings, green mobility, district & embedded energy and decentralised renewables. Our 13,500 employees combine these activities to help businesses, public sector organisations and government to embrace the energy transition towards net zero - and also the digital & industrial transitions that are together redesigning the way we move, work and live.
Globally, Equans is a world leader in energy services with nearly 100,000 employees working in more than 50 countries, with an annual turnover of over 17 billion euros. Equans is a Bouygues group company.
To find out more visit us at equans.co.uk
#empoweringtransitions
---
Your Homes Newcastle, Awards success for Denton and Hilltop House works, URL https://www.yhn.org.uk/news/properties/awards-success-denton-and-hilltop-house-works
Newcastle City Council, Council energy efficiency project wins top regional award, URL https://www.newcastle.gov.uk/citylife-news/council/council-energy-efficiency-project-wins-top-regional-award