03 October 2023: We are thrilled to announce that Switchee has received a special judges commendation in the Product of the Year category at the National Energy Efficiency Awards 2023. We were also awarded second place in the Data & Software Company of the Year category.
The National Energy Efficiency Awards celebrate energy efficiency schemes and encourages best practice within the energy and housing sectors.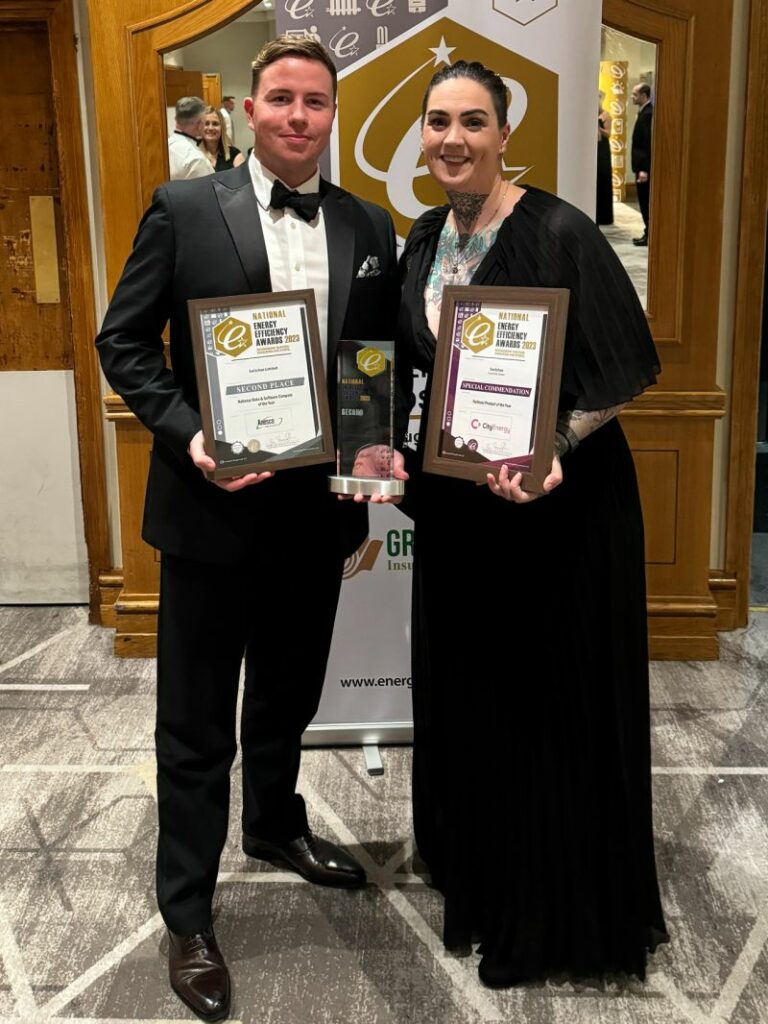 Through innovation, determination and collaboration, we continue to update and improve our products and services at Switchee. Here are a few highlights which set Switchee apart from other businesses who entered the categories:
The data
Taking data from thousands of connected homes, the Switchee dashboard gives remote property evaluation tools such as mould risk and fuel poverty warning. Housing Providers are empowered to transform the way they look after their properties and critically provide additional support to vulnerable customers who are at risk of fuel poverty. Insight updates in the last year include Heat Loss Rate (HLR), Time to Heat (TTH) and improved fuel poverty risk metrics.
The hardware
The Switchee device does not rely on WifI to transfer data; rather a GSM connection ensuring all residents are included in communication.
An easy to use, large screen helps those with visual impairments or difficulties with small touch screens.
A colour background (colour nudge technology) – with shades ranging from blue (too cold) to bright red (too hot) supports those with a wide range of disabilities and learning difficulties.
The communications
A trusted, secure communications platform. Housing Providers can communicate directly with the resident, allowing appointment scheduling, surveys and two messaging to happen via the device with a proven 90% response rate in 24 hours.
Switchee resident support.
Expert front line support is always available for all residents. Our dedicated team took in excess of 6000 calls from residents in 2022. Calls range from troubleshooting heating issues to helping residents understand eligibility for fuel vouchers or the Warm Homes Discount.
For residents who are unable to set their Switchee device themselves, our team can remotely set the device to ensure the residents can benefit from warm, affordable and energy efficient homes.  
Switchee Trusted Installer Network.
The Switchee Trusted Installer Network (STIN) offers nationwide coverage of 100% of the UK (Mainland and NI), ensuring we can connect you with a skilled installer in your area. All installers in our network are industry-certified by recognised bodies like NICEIC and Trustmark, ensuring high standards of competence and compliance.
Comprehensive end-to-end management means we take care of every aspect of the Switchee installation process, from initial planning to final implementation. Switchee-trained installers ensure efficient and accurate installations, maximising the benefits of our smart-home solutions.
"We're thrilled to be recognised in both the National Data and Software Company and National Product of the Year categories at the National Energy Efficiency Awards," said Ian Hutton, Head of Product Engineering at Switchee. "This is testament to the hard work and dedication of our entire team, and to our commitment to helping social housing providers create warm and healthy homes for all residents."
"We've invested heavily in improving our offering over the last 12 months, and we're seeing the benefits firsthand as more and more housing providers deploy Switchee. Our platform provides them with the insights they need to be proactive, better target limited support resources, and to use live data to validate the impact of their interventions. I'm incredibly grateful to everyone in the Switchee team for their contributions to this success.
To learn more about how Switchee is supporting housing associations and local authorities manage their properties, communicate with their residents and remotely protect their assets, contact our team today.